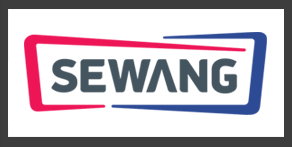 Sewang's new brand denotes a future vision based on the concept that endless development can be accomplished through harmony and innovation on the basis of solid stability.

The red color and blue color signify that yin and yang meet to achieve the harmony of taegeuk and indicate that the creation of the universe and changes in it are made within the harmony of taegeuk.

It also signifies that the fabrics are woven within the harmony of the woof and cut file.
Colors for exclusive us
SEWANG RED
CMYK
RGB
C0 M100 Y55 K0
R237 G21 B86
SEWANG BLUE
CMYK
RGB
C89 M76 Y0 K11
R46 G74 B149
SEWANG GRAY
CMYK
RGB
C23 M2 Y0 K77
R69 G85 B96
Background colors for exclusive use
SEWANG RED

SEWANG GRAY

SEWANG BLUE

BLACK